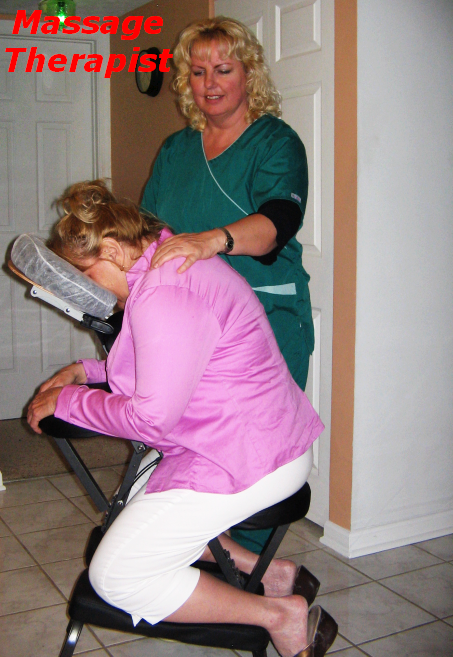 History of Chair Massage
David Palmer was the first to popularize the concept of doing seated massage on fully clothed people in a public or office setting. His article A Brief History of Chair Massage in Positive Health Magazine tells a story of how he just wanted to help to give the massage profession a boost in making massage accessible to all.

His idea for creating chair massage came out of his realization of how difficult it is to build a massage practice and the challenges of educating the public. He says in his article
"I was mystified. Hadn't massage changed my life? Hadn't it had a significant impact on the life of every body worker that I new? Why was the interest in professional massage growing so slowly that practitioners seemed to be fighting over the same 5% of the population who appreciated the benefits of skilled touch? What was the point in training skilled touch professionals if there were no clients for them to massage?"
Often it seemed that the bodywork community somehow felt that the problem was not with professional massage, but rather with the lack of sophistication on the part of the public. Most people, the notion went, were too "uptight" or "unconscious" to appreciate what our service had to offer. I realized, however, that we wouldn't be able to solve this problem if we simply chose to blame the potential clients. Another perspective was called for and it occurred to me that the problem might be more in the packaging, not the product. That is to say, when looked at from a marketing perspective, the general public clearly did not perceive massage to be safe, convenient, or affordable."
Chair massage or seated massage has been around for centuries and doing seated massage is often a part of many different types of massage such as structural integration and Feldenkrais
Chair massage has developed into a way of marking your table massage practice and also into corporate chair massage, airport massage and massage kiosks in public places such as convention centers, busy office building lobbies and hotels.
The Benefits of Chair Massage
With the stress of the business environment and staff struggling to keep up with their assigned tasks, it can be a good treat for anyone to leave the worries of the office for even a brief period of time. A chair massage can be a fun, relaxing way for any employee in your office to chill out.
Chair massage is simply mobile massage therapists coming to an office location of your choice providing 10-15 minute mini-massages for your employees. This is highly beneficial because it can allow you and your co-workers the convenience of not having to drive elsewhere and fit the massage into a lunch hour.
Massages are proven to be very beneficial to your body and mind. When giving into a massage, the person's mind will relax as their muscles begin to feel better. Getting a massage can help relax and soften muscles. It decreases depression and anxiety rates. It can improve the immunity of the body by stimulating lymph flow. Positive endorphins are released through a massage which can improve a person's temperament. These benefits show how chair massage can help employee health. If your employees' health improves, that means their productivity will increase as well. This will allow you to get a good return on your investment since having happier employees could very well translate to better customer service and happier customers.
The best part of it all is that you can do this without having to coordinate any of the details. When you call Body Charge, one of the most experienced and successful, we will come to your office or any other location to provide chair massages to you, your employees, or even your clients. You may use our services as a reward for your employees or as a monthly benefit that you offer your staff. Chair massage could be a monthly bonus instead of annual benefits and it costs so much less. In a tough economy, it shows appreciation to your employees in a meaningful way without having to spend too much.
On-Site Office Chair Massage
Our office massage specialists will help take care of you and your company.
The potential benefits of chair massage are quite broad and substantive, benefits that can make a real and lasting impact in your working environment. These benefits are not only measurable in scientific studies but are also felt by each and every recipient of massage. This is what makes chair massage such a valuable service to bring to your work environment. These distinct benefits translate very well as thank you's and rewards for employees who work hard for your business. Whether you want to reward employees for that final push on the last big project or say thank you periodically for all their hard work, chair massage is a benefit that counts.
Workplace Chair Massage
Will Help Employees:
-Decrease Aches and Pain
-Reduce Stress
-Lessen Anxiety
-Increase Morale
-Improve Immune Function
-Decrease Chance of Injury
and more!
Help Your Business:
-Increase Productivity
-Decrease Absenteeism
-Improve Retention Rates
-Elevate Morale
-Motivate Employees
Chair massage in the workplace can also be utilized to provide a relationship building, inter-office gift. This makes a great gift to valuable clients and their teams. JoyLife Therapeutics offers gift massage packages including attractively designed, printed, wrapped and delivered gift certificates. We can send directly to the client, have delivered via a service for an extra personal touch, or deliver the massage gift certificate to you so that you can present it personally to the client. The point is we will do whatever it takes to help you make chair massage a memorable gift to your important clients. We can help carry out surprise chair massage giftings as well - just ask.
Massage in the office is a great benefit, boosting office morale, increasing and enhancing productivity and alleviating stress. JoyLife can meet all of your company's needs in the corporate, workplace and office massage arena. With a strong network of therapists throughout the US and Canada we can coordinate corporate office massage services throughout the US and Canada. Our chair massage therapists present professionally and are trained and experienced in chair massage. Each therapist is licensed and certified as required in each location and carries professional liability insurance. In addition JoyLife carries General Commercial Liability insurance. We back our office massage services with friendly and immediate service and we work hard to provide clients with the flexibility demanded by each individual project.